I loved Labyrinth as a child. From the friendships to the adventure to (in my teens) David Bowie, the entire movie was totally enchanting! I re-watched it recently and was struck by the gremlin ball scene, especially Sarah's ballgown and hairpiece. It's a combination of silver ribbons and leaves cascading down with her hair.
I was inspired to make a pair of earrings that would give a similar effect as her hair accessory for the Craftster Jewelry and Trinkets Challenge 3.
They'd be a great addition to a Halloween costume as Sarah, a fairy, and even a mermaid! If you want to make a pair for yourself, here's a quick tutorial: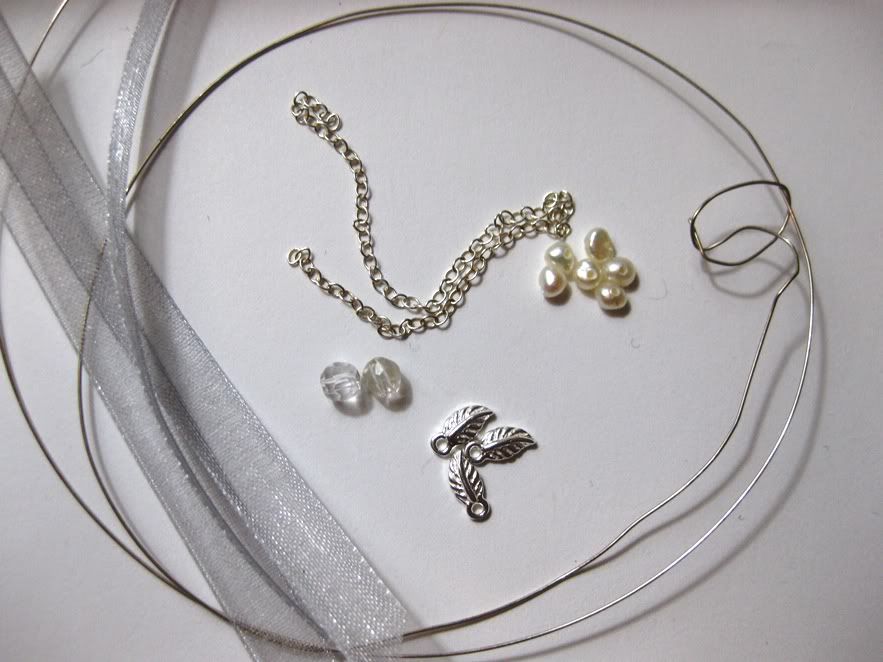 Materials: Silver organza ribbon (0.5 to 1 cm wide), silver chain, silver wire, small round pearls, 2 faceted rock quartz round beads, 4 silver leaves, 2 silver jump rings, silver earwires, scissors, needle, light gray thread, round nose pliers, flat nose pliers, cutters.
Try to get a roll of organza ribbon. This will ensure that your ribbon is gently curled.
The following instructions are for one earring. Repeat to get a pair.
Cut three lengths of ribbon: 14 cm, 11.5 cm, and 8.5 cm. Cut the bottoms so that they come to a point.
Create a chain of pearls 7 cm long by wire-wrapping 10 pearls together. See Jewelry Design 101: Wire-Wrapping Part 1 for instructions. Instead of starting with a ballpin, create a wrapped loop with a short length of wire, insert a pearl, and create another wrapped loop. Repeat with another pearl, but before closing the second wrapped loop, insert a loop from the first pearl you wrapped. Continue with the remaining 8 pearls. Before closing the second wrapped loop of the 8th pearl, insert a silver leaf.
Attach a wire-wrapped faceted rock quartz round and silver leaf to a 4 cm length of silver chain.
Layer the organza ribbons so that the longest and the shortest pieces curve in one direction and the medium piece curves in the opposite direction. Sew the three pieces of ribbon together along the top.
Insert the pearl chain and the silver chain between the short and medium organza pieces. Sew them in place.
Sew a jump ring to the top of the organza ribbon cluster so that half if it peeks over the top.
Sew another piece of ribbon perpendicular to the top of the organza ribbon cluster. Wrap it around the organza ribbon cluster a few times to cover up any visible stitches and the bottom half of the jump ring. Tuck the end in and secure it in place by sewing it down.
Insert the jump ring through an ear wire.